Hardy Marginal Water Plants
Hardy marginal plants add beauty and contrast to the waters edge of a pond and feed off the waste produced by koi. Some marginals such as watercress and water celery become a food source for koi and should be protected with some kind of barrier. Most marginals bloom in the spring to add a splash of color to the pond.
The most vigorous Louisiana Iris ever grown with a flower up to 6" wide and so velvety that gardeners can't resist touching the deep purple petals. The golden throats highlight the ebony hues of the blooms. Splendid in any setting, Black Gamecock is especially effective in waterside plantings.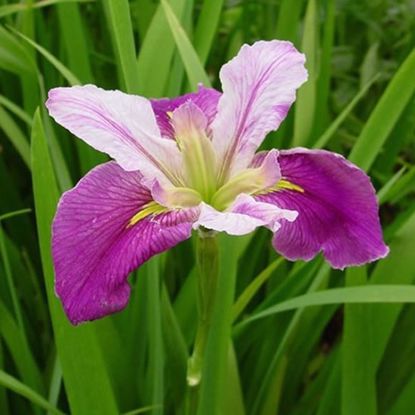 Colorific Louisiana Water Iris - Hardy zones 4-11. Colorific produces large, showy flowers beginning in late spring through early summer. Beautiful bi-color white, lavender to deep violet flowers add amazing color and beauty to your water garden. The graceful green foliage grows to about 30" tall.
Red Iris Fulva is a Louisiana Iris species and is native to the central United States and the swamps and wetlands of the deep south. It has bright green leaves with copper red to brick red flowers in late spring.